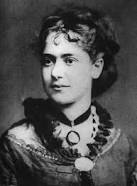 Eleanor Marx was a remarkable individual who contributed to a number of causes and influenced not only her own generation but later ones. She was the youngest daughter of Karl Marx, born in London on 16th January 1855. By the time Eleanor was sixteen she acted as her father's secretary, accompanying him to international conferences on socialism. She contributed to many movements during her relatively short life in many campaigns including those associated with the creation of trade unions, workers education, working conditions in factories and female equality. Many of these campaigns were associated with the education of workers. She was a rare example of someone who was able to combine theory and practice. Below I will try and record some of her campaigns and achievements.
She was an exceptional researcher and translator spending long periods in the British Museum Reading Room but was not afraid to initiate and get directly involved and lead from the front in campaigns e.g. she was an active strike organiser and union administrator e.g. secretary of the National Union of Gas Workers and General Labourers of Great Britain and Ireland which later merged to form the General and Municipal Workers Union, and then became the GMB. Eleanor was very committed to the formation of trade unions seeing them as a positive mass movement representing skilled and non-skilled workers. Initially the trade union movement and membership was exclusively for skilled workers who were resistant and hostile to membership of non-skilled workers. In 1889-90 she supported and mentored the head of the National Union of Gas Workers and General Labourers during a crucial strike and established the first women's branch of that union.
Her very detailed research led to many seminal lectures and pamphlets e.g. drawing attention to the ineffectiveness of the Factory Acts (1) which were supposed to improve the working and employment conditions in factories and provide basic education to young workers.
In 1884, Eleanor joined the Social Democratic Federation (SDF) and was elected on to its executive. Her involvement in the SDF played a key part in advocating and supporting workers' education.
In 1876 Eleanor Marx became an active campaigner for female equality when she helped a female candidate win a seat on a London School Board. In 1886 Eleanor got involved with the Women's Trade Union League. She also got directly involved in the Bryant and May match-girl strike and in 1889 she became involved in the Dock workers' strike.
She served as an administrator and fundraiser for the Amalgamated Society of Engineers (ASE) and helped carry out the ASE's campaign for the eight-hour day.
Her range of activities was remarkable she was a gifted speaker, writer and knowledgeable on a wide range of subjects particularly economics through her major editorial role for her father Karl Marx's works. She was an internationalist, translator and interpreter in French, German, Russian and English, interested in literature as well as politics. Hers was the first translation into English of Gustave Flaubert's French novel Madame Bovary and she taught herself Danish so that she could translate Henrik Ibsen's A Doll's House.
What made her particularly a special and effective campaigner and activist was that she instigated and remained committed to the causes that she fought for.
She published a large number of books, articles and pamphlets covering a wide range of social topics including:
"The Woman Question: From a Socialist Point of View." (1886).
"The Factory Hell" (1885).
"The Working Class Movements in America." (1888).
"The Working Class Movement in England. (1896).
Before his death, Karl Marx had given Eleanor the task of preparing his unfinished manuscripts for publication. Eleanor also had the task of dealing with the English publication of Das Kapital . Eleanor was involved in translating and editing volumes of Kapital as well as editing Marx's lectures   "Value, Price and Profit" and "Wage Labour and Capital". She also contributed many articles for Justice a political journal. 1898.
Factory Acts. See Biographies on this website.
References:
Excellent biographies of her life and accomplishments –
Holmes. R. 'Eleanor Marx'. ISBN 9780747583844. Bloomsbury Publications Plc. 2014.
Tsuzuki. C. 'The Life of Eleanor Marx 1855-1898. A Socialist Tragedy.' Oxford Clarendon Press. 1967.
Kapp. Y. 'Eleanor Marx.' Two volumes. Lawrence and Wishart. 1972 and 1976.
I intend to expand this biography later.