Launched in 1825/26 by Henry Brougham and Matthew Davenport Hill following an article in a journal (1821) by the radical Charles Knight deploring the woeful influence of the popular press on the working classes. Brougham had written a pamphlet 'Observations on the Education of the People' proposing the publication of low price books popularising science and general knowledge. A series of weekly and bi-weekly publications were produced by SDUK including the 'The Penny Magazine' and 'The Penny Cyclopaedia' as well as more expensive tomes e.g. 'Gallery of Portraits'. Also published was the Library of Useful Knowledge costing sixpence and published biweekly and focused on scientific themes. A portrait of Henry Brougham is shown below.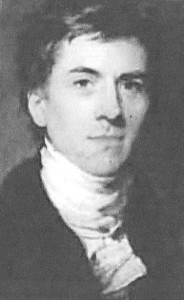 Topics covered included history, geography and zoology. It was reckoned that there were 200,000 subscribers to the Penny Magazine per week many of whom were artisans but also middle class readers. The publications did not engage in political or religious issues but rather focused on popularising other areas of knowledge. The SDUK wanted to appeal to workers who had just learnt to read and the material was aimed at improving their reading as well as informing them. The SDUK focused primarily on teaching artisans the scientific principles associated with their trades and imparting useful information.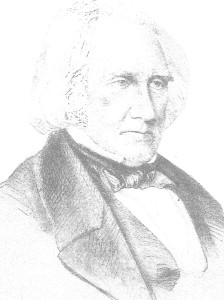 The first publication in the Library of Useful Knowledge sold 33,000 copies mainly to middle class readers and in spite of Brougham's hopes did not attract readers from the workers. The SDUK ceased most of its operations in around 1848 though some publications continued. While created with worthy and high ideals the SDUK finally failed as the sales of the publications fell. The SDUK was not a complete failure as some commentators have claimed but it did represent at the time the first attempt to create a comprehensive and inexpensive range of educational literature for the masses. A portrait of Charles Knight is shown above.
Separate biographies exist in this section of the website for both Henry Brougham and Charles Knight two remarkable individuals.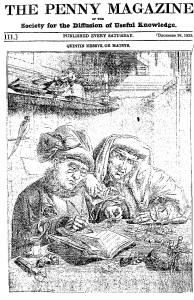 A copy of the front page of the Penny Magazine dated 1833 is shown opposite.
Reference:
R.K.Webb, 'The British Working Class Reader' George Allen and Unwin Ltd. 1955.